I uploaded from my phone and the pictures went in a mixed up order but here it goes, the colors in this collection are sheer they just help to give you a natural pop of color not anything over powering, Like colors like this to put on top of other colors to help make a new shade or effect or tone down something that is over powering for the moment. So these are nice for that and Ex StreamLY moisturizing for your lips.However they are not long lasting with in 45 min of doing nothing and wearing it straight on my lips with no base or lip primer of any kind it wore off I had a very very little hint of after color but barely.
You never want to over work you skin,lips so to use this everyday with how moisturizing as it is may not be for everyone, people with chapped and dry lips or cracking problems may love to wear this everyday. this would be great for the summer chapped lips and winter chapped lips times we all almost go threw at times other than that it would be something I would make more shades out of or wear from time to time. There was no smell or any irritation at all, went on very sheer silky smooth, if you have lipsticks that are a little harder to blend add a tad bit of this to your lips and the other lip product you have and it will blend very nicely. If your wearing this on your own because the staying power isn't long as a stand alone feathering won't be a problem but if you are needed to mix it up with other lip products depending on the other products you make want to make sure to use a lip liner more wax base to help from any feathering.
I would recommend it because there's a great amount this product will do and is very versatile for all seasons,skin tones, and ages. I always look to see the versatility,quality,and how many people from all walks of life can get good use out of. I don't have problems with cracking dry lips on a regular bases, but being that I do at the change of seasons run into that issues this is nice to have on hand for that , and in-between I can also mix it up to wear with out over working my lips to be to moisturized . All and all I can easily wear this 2-4 times a week with no prob if I really wanted to. Like I did for the review on the different colors.
YouTube Video on my channel of the swatches
All 3 above picture's are taking onside the house, and show the most of the real color you see compared to the way the other outside pix took.
Swatch on my hand outside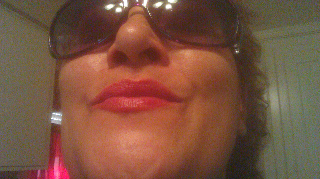 Inside
These pictures of them in the tube isn't showing so clear as on my lips and my swatch..
Outside, it appears more lighter in the picture, in person it more look like the pictures I took inside
I know didn't come out too clear
Swatch outside
in the tube
Outside
Outside