All about Beauty, Makeup, Hair and Nails, Swatches, Dupes, How-To's, Do's and Don'ts, Reviews, Demonstrations, Tutorials, DIY, Budgets, Ideals, Tip's, Advice, and much more… Contact EsteeDarla@gmail.com
Saturday, May 28, 2011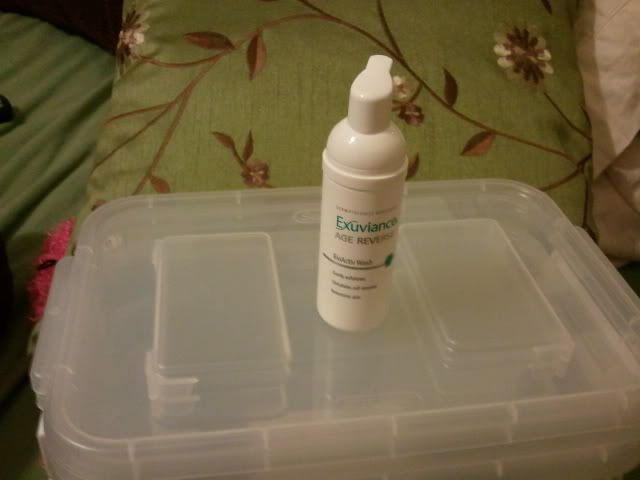 This is what the
company claims
, and from using it for 4 for a strieght 4 months it is true to what it claims and more. You diffidently can fell something taking place it is a very little feeling .it is hard to describe casue you almost not sure what the feeling is. It is genital(All 4 products in this kit) it has a very very light faint smell, not nothing to give you a head ache or bother you. The eye,day and night creams are all very light weight and soaks into your skin very quickly and leaves your skin feeling very silky. The main thing I absolutely love about this beyond everything else is that after applying this and washing your face with the face wash it leaves your skin so silky smooth and youthful to ware your makeup glides right on like it isn't on top of anything. Many days I ran out the house with out putting primer on my face or eyes and it worked really good. Now in the summer time is when I have allot of trouble with moisturizers and skin care products not absorbing into my skin and feeling heavy on my face, I did not have that problem at all with this line. My makeup stays on for the day still. My sister is very sensitive to many products and she can use this line and it doesn't bother her at all.
Another thing I found when using this as it says to everything twice daily, the day and night cream only once daily,but it helps with in your first week to get your skin to grab a balance so everything stays in harmony while continue to using it.
OK now even thought it may seem at first glance allot of money $74.00 but it only takes a little bit and last along time after 4 months of using it I still have half of the product to still use so I am averaging out you will get at least 8 months to 12 months depending how much you use and how much your covering. I do my face ,neck ,upper chest area,hands and elbows. If you do the math of cheaper products that you will have to use allot more of and use more often to the small amount you use and how long it last your really coming out ahead on the money part. It is worth every cent. I would highly recommend this line.I already have bought other stuff in their line and they now have a liquid foundation that's a must have.(Review coming up)
Exuviance Skin Caring Foundation
Tuesday, May 10, 2011
This is the same steps I did with every hair coloring I have done at home with this Brand.Just different colors.
YouTube Video
DIY Dying My Hair Revlon Color Silk 45
Mix the 2 bottles into the applicator bottle
Shake Well and apply
Evenly apply all over hair let set wait 25 min
Rinse well tile you don't see any more color coming out in the water, and wash out with the cream conditioner that comes with it and don't wash with shampoo or condition 24 hours before you die your hair and after you die your hair.